Glen Burnie Car Wash 1
100 Holsum Way | Glen Burnie, MD 21060
Hours: Open 24 hours a day, 365 days a year, weather permitting.
*Express Tunnel open Monday-Saturday 8 a.m.-8 p.m., Sunday 8 a.m.-5 p.m.
---
Express Tunnel
Fast, easy, with no waiting! The Express Tunnel is the fastest, most convenient tunnel wash.  No hassles!  You stay in your car.  No getting kids or belongings out of your car, no strangers taking your car through the wash.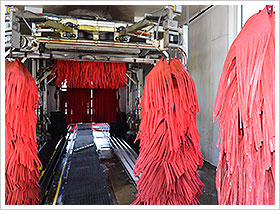 Supreme wash includes:
Wash using the highest quality solutions and polishes
Undercarriage wash
Wheel Cleaner
Tire Shiner
Spot-Free Rinse
Rain-X total body protectant
---
6 Self-Serve Bays
Each bay is equipped with more functions than any other car wash. Every bay accepts bills, coins and credit cards. 
Amenities include:
Presoak
Tire/engine cleaner
High-pressure soap
Foam brush
High-pressure rinse
High-pressure wax
Triple-foam wax
Spot-Free Rinse
Tire Air
Windshield Washer Fluid
Blow Dryer
---
2 Touch-Free Automatics with Dryers
Automatic Laser Wash Systems, Taking the guesswork (and quite simply, the work) out of car washing. Choose from four washes including Basic, Deluxe, Works and Supreme starting at $7.
Supreme Wash includes:
Undercarriage wash
Wheel and side blast
Triple presoak passes
Laser power rinse
Foamy clear coat polish
Clear coat protectant
Spot-free rinse
Laser-Dryer
---
10 Vacuum Combo Units
Vacuum Features:
High/low suction selection
5 units with fragrance machines
5 units with carpet cleaners